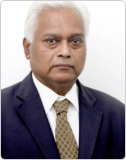 His vision of creating this organization and the hard work since done by our Secretary K.C. Wang have brought this regional
group together.

Japan has probably the oldest Pediatric Neurosurgery society and has also hosted the 1st meeting of International Society for
Pediatric Neurosurgery. We have probably fallen behind most other continents in establishing this society. This is probably
because our continent is geographically much more widely spread and has different languages as well as cultures. However,
there are many similar social situations and neurosurgical diseases of children. This forum will help us share experiences, learn
from each other and enrich our clinical and scientific knowledge. Our collective efforts will also help us attain a prominent role
in the world of pediatric neurosurgery.

As we harbor the largest pediatric population amongst all the continents as well as a large no. of neurosurgeons, I hope the
enthusiasm generated during the 1st meeting in Taiwan and the recently concluded 2nd meeting in Mumbai will help us
consolidate and will serve as an impetus to further collaborate with each other to develop this organization.

I would end up by thanking all the members of the Executive Board with whom I have worked earlier as well as the new committee
I am entrusted with.

I wish all the very best to Dr. Kim who will be organizing our next meeting in Korea in 2019.
Dr. C.E. Deopujari President, Asian Australasian Society for Pediatric Neurosurgery